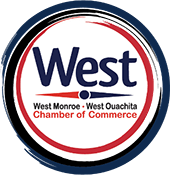 Louisiana Chamber of Commerce Executives Recognize
WMWO Chamber as 2023 Chamber of the Year
(September 18, 2023)
The West Monroe West Ouachita Chamber is proud to be recognized as the 2023 Chamber of the Year by Louisiana Chamber of Commerce Executives (LACCE) at the annual conference in Lake Charles today.
It's an exciting time to be in the Chamber of Commerce industry and to be a Chamber in Louisiana. Many chambers have risen to the challenge to provide unparalleled leadership and direction, helping their members and communities thrive. This type of performance reflects the solid organizational infrastructure built through much hard work and diligence.
It is the goal of the
LACCE Chamber of the Year Award program
to recognize those chambers that have distinguished themselves and their community through excellence in chamber management. Several chambers applied for the award in 2023, and the entries were judged by current chamber executives. Recognition is based on the past 12 month's accomplishments.
To be considered, a chamber must submit examples of growth and progress in three areas vital to an organization's success: community development, organizational development, and professional development. Awards in 2023 were presented in three separate categories based on membership dues.
2023 Chamber of the Year Awards
:
Greater Iberia Chamber of Commerce

– Small Chamber Category

West Monroe-West Ouachita Chamber of Commerce

– Medium Chamber Category

Jefferson Chamber of Commerce

– Large Chamber Category
"We are honored to be recognized for this award and thank the LACCE Board, our board of directors and countless volunteers that help our Chamber build a brighter future in Ouachita Parish." Said Kristopher Kelley, Executive Director for the WMWO Chamber "It is truly a profound compliment to be recognized by our peers in the Chamber community with this award."
LACCE is the professional development organization for chambers of commerce executives and staff members in Louisiana. LACCE equips chamber professionals with leadership development opportunities and tools to build innovative chambers.



Photo Left to Right: Ashley Dowling (WMWO Chamber), Kristopher Kelley (WMWO Chamber),
Melissa Bordelon LACCE 2023 Chair (Tangipahoa Chamber), Jon McKinnie (Union Parish Chamber)